January 2022 Update
Hello! 
I hope you had a wonderful holiday season and a Happy New Year! I've been told it's no longer appropriate to say Happy New Year, but I still hope you had a good one. 
 You may have seen some of the many articles released about funding allocated to women and minority founders in 2021. PitchBook Data released an article stating "An exceptional year for female founders still means a sliver of VC funding", which is bolstered by the analysis in this Bloomberg LP article stating "Female founders secured only 2% of venture capital in the U.S. in 2021, the smallest share since 2016". The pie grew and women got even less of it.
Underlying the inability for women and minorities to gain venture funding is something called "in-group favoritism," the phenomenon that causes people to view others who are similar to them as more competent. The lack of diversity in VC check writers means there will be a lack of diverse check receivers. Conversely, female, Black, Latinx, veteran, non-binary, etc. investors will view similar founders as more competent and will fund them. 
 If you are a startup founder seeking initial funding and identify as underrepresented, this is why it is often a better use of time to search for potential angel investors who are similar to you in some way even though they write smaller checks. You won't have to fight hard to prove your competence as you might with the VC partner who doesn't view you as similar to them. There are millions of emerging angels, and many are founders and operators.
 I made my third angel investment this past weekend, tweeted about it, and was happily surprised by the incredible response it received. Nearing 700 likes, lots of DMs from founders and investors, and I gained about 300 followers. Clearly this resonated with many people.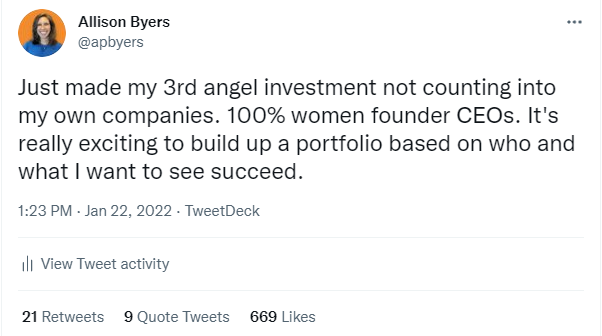 We are roughly a month away from finishing our v1 platform, which will include a snazzy new look for the founder Pitch it Plan and our investor-facing portal. Emerging angels are voting with their dollars and we will help them discover relevant founders and opportunities in a hyper personalized way so it's fun and efficient. @alexfmac tweeted that great deal flow requires a network of great angels. Inspired by his graphic, here's how Scroobious will change the landscape and open access to quality dealflow.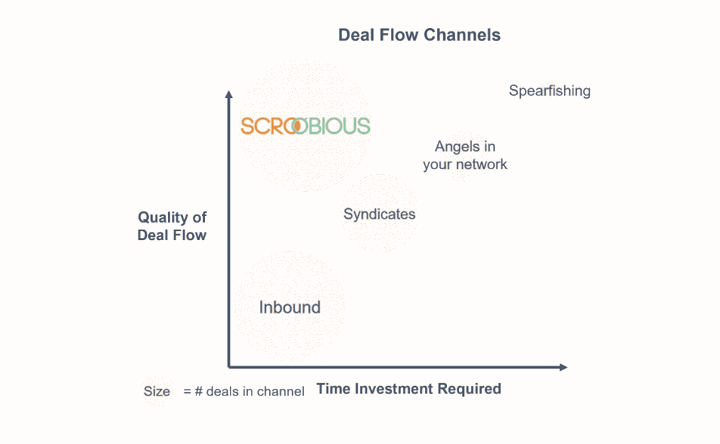 Wanna know more about how we'll do it? Join our waitlist and be the first to know when we private soft launch the investor portal.
Read on for upcoming events, replays of past ones, and don't miss our featured founder at the end! Not listed below are all of the pitch workshops we're running for incubators, accelerators, and university entrepreneurship programs where we cover pitch deck basics as well as presentation elements related to confidence and bias. Let's chat if you run a program and are interested in providing this content to your members.
Thank you for reading this. Thank you for helping us. I appreciate you.
Allison Byers, Founder & CEO